It is not too uncommon to find art for sale in the form of paintings or drawings. But what about art with a business? There are many ways that an artistic individual can make money from their artistry, and it may be as simple as starting small.
For example, you can use a laser cutter to make money by creating keychains and bottle openers and then sell them to people online. If you are into pottery, you can also make pots and then consider selling your products to other people. You can also advertise your skills in drawing or painting and offer to decorate people's homes or brick-and-mortar stores.
There are so many ways that people can turn their artistic skills into a business. All it takes is time, dedication, commitment, and hard work. Making money through one's artistic skills can be a lucrative endeavor. You have to know how to maximize your skills properly.
Turning Art Into a Business
If you're an artist, it can be hard to turn your passion into profit. You might not have the right mindset, or you may not know how to market yourself effectively. There are many artists out there who do not know that there are opportunities for them to earn money just by using their skills. Below are examples of how artists can turn art into a business:
Selling portraits: Artists who love to draw or paint can be paid to do art for others. If you're good at drawing or painting, it will be easy for people to pay you for your work. You can offer a flat fee and charge per hour as well if you wish. You can paint self-portraits of other people or portraits of their children, pets, friends, and other loved ones.
Charcoal art: Art made out of charcoal can be costly, so it's a good art business to get into if you have the skills. You need to invest in art supplies, which can be expensive. You also need to market your skills properly so that people will know that they can pay you for your work.
Painting landscapes or seascapes over photos: Paintings like this are desired by many people who do not have time for painting themselves but still want art pieces in their homes and offices. If you have art skills, you can easily sell your art to people who want it. There are a lot of beautiful ideas for paintings that you can make and sell to other people.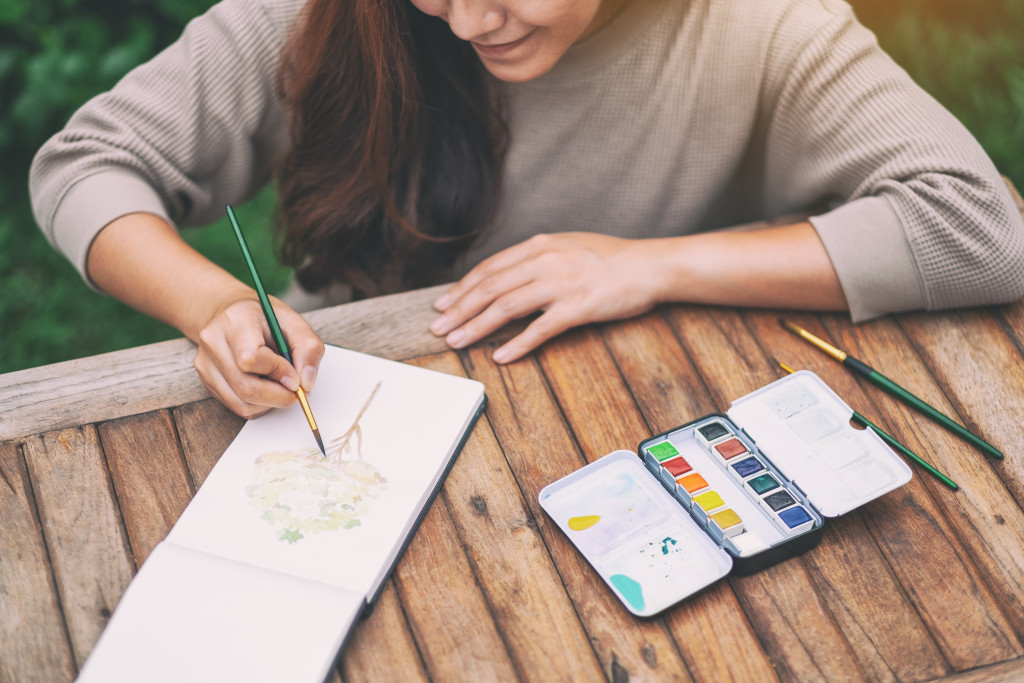 Watercolor paintings: Watercolors are a great business idea since not many artists choose this medium, and the pieces themselves are very affordable for most people's budgets. You only need watercolor paper and paintbrushes that will cost you under $20 at most. Once you have the materials, you can use your creativity to create beautiful watercolor paintings that you can sell to others.
Selling art prints: Artists proficient in digital art should try selling their art graphics through sites such as Society Six and Society Pixel. These sites allow you to upload art graphics that other people can buy as art prints for their homes or offices. You might even have a few pieces commissioned by companies who want artwork on their walls!
Decorating people's homes or offices: You could offer art decorating services if you are really good at art. Many homeowners and business operators are looking for art that will add character to their homes or offices. Make an online portfolio of your art pieces, then go on Craigslist and post ads saying that you can do art installations in people's homes or offices. You can also show samples of your work and state that you can do murals and art installations for people's homes or offices.
Selling sculptures: If you are good at art, you could also try selling sculptures. Sculptures are art pieces that have been created using clay or other materials. You can make your own sculptures and sell them at art fairs and art shows in the area where you live.
Making Money through Art
There are so many other ways that people can make money out of their artistic skills. People can also make use of innovative tools to make things that they can sell. Their competitive advantage will be their creativity which will set their products apart.
Turning art into a business is not hard, especially if you are dedicated to your skills and are determined to monetize them. You can make a business out of art so that you can earn an income by doing something that you love.