Leaders, managers, and business owners play a critical role in the success of any business. In any organization, leaders are required to have essential leadership skills to guide their subordinates towards reaching new heights and achieving set goals. They're also expected to have impeccable negotiation skills, good character, and strong communication skills. While these attributes are expected for business leaders, it's also vital to possess effective coaching skills.
In Singapore, busy professionals take advantage of workplace training programs to expand their skill sets. This program promotes a holistic system of lifelong learning by offering comprehensive training programs and certification courses. Learning doesn't stop at school because even full-time employees can work on their professional development. They also have a Train The Trainer (TTT) Program in which participants can choose a program module fit for the needs of their workforce and company standards.
Having exceptional coaching skills is critical in the improvement of team performance. Studies also suggest that coaching drives individuals to perform better and drives commitment and overall motivation to their work. Thus, if you want to build the most talented and successful workforce, here are tips for coaching employees and being a better mentor.
Identify Improvement Opportunities
In normal circumstances, managers conduct performance reviews by simply pointing out issues in employee performance. More often than not, identifying performance issues from the get-go can make someone feel they are underperforming or there's something wrong with them. But it doesn't have to be this way. Simply put, it's not a matter of "performance issues," but it's about specific barriers that prevent them from reaching their fullest potential.
Instead of pointing out employees' shortcomings, discuss areas where they can further improve. For example, you can point out specific skills they need to master to become better at their job. You can also mention certain obstacles that prevent them from performing well. These include the device they use or their current schedule.
Another mistake managers make is conducting performance reviews at least once or twice a year. It's impossible to spot improvement opportunities if you're not continuously keeping track of your employees' performance. Keep in mind that coaching is a continuous process. This way, it's much easier to identify improvement opportunities as you keep track of their progress regularly.
Create a Collaborative Environment
Coaching is a two-way process. Learning shouldn't only come from the mentor, but it also provides the opportunity for discussion and mutual feedback. This approach means giving employees the ability to speak out and decide what strategy works for them. Incorporating a collaborative environment in coaching strengthens coaching relationships and teaches how each person can be an advisor for each other.
Once you establish a healthy coaching relationship with your employees, it's easy to improve your management style and workplace interactions. This will also strengthen trust in the office and open doors for improvement.
Understand Your Employees' Perspective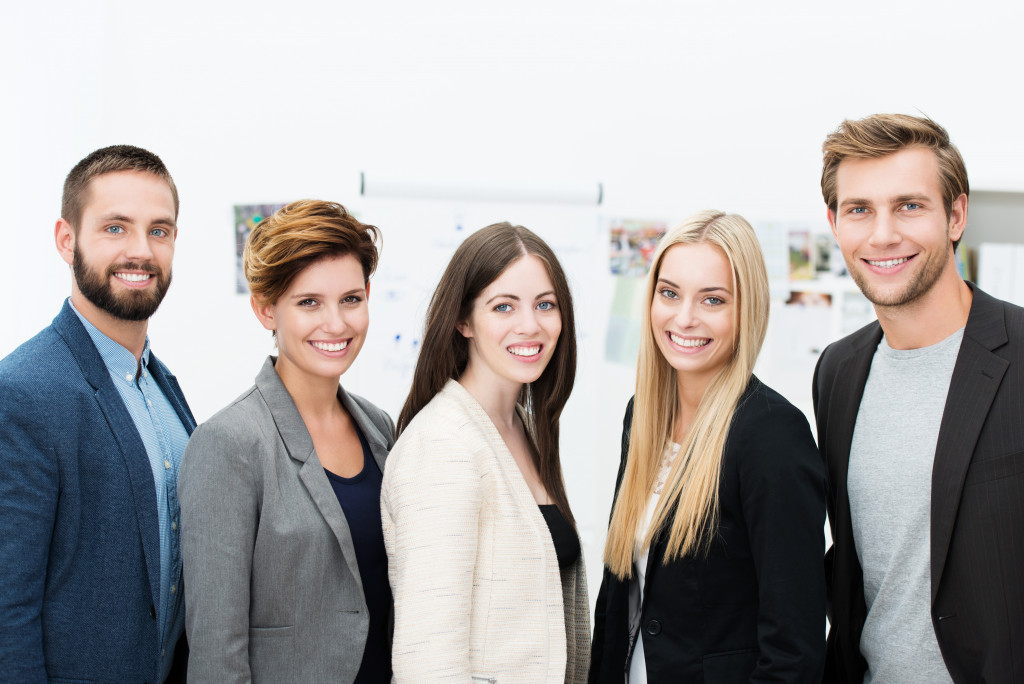 When coaching employees to enhance engagement and performance, you have to approach things from their perspective instead of your own. Why? Understanding their perspective will help you set realistic goals according to their work style and see the results and changes you want.
Each person has different preferences, personalities, and motivations. This means asking questions to better understand their unique situations and expectations about the job. That way, you can modify coaching discussions to align their work style with the developments you both aim for. Putting yourself in their shoes will help you find the best strategy to improve their performance with personal factors in mind.
Foster a Learning Culture
Improvement of skills and competencies requires serious commitment. If the managers themselves aren't learning continuously, then why should employees? A great mentor is someone who leads by example and does what people expect them to do.
Foster a culture of learning in the workplace by showing interest in employees' success, including the little milestones. Ask them about their future plans or how they see themselves growing in the company. Are they seeing themselves assuming a much bigger position in the near future? Do they have plans to get promoted? These questions will encourage them to think about the future of their careers and what exactly they plan to accomplish in the company.
Final Thoughts
Having essential leadership skills isn't enough to be a good manager. You should also be a great mentor to your employees to put your teams in a better position to help the company succeed. In turn, this won't only improve business performance, but you'll also develop positive relationships with your workforce.